NIAPPI Beginnings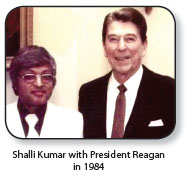 In the early 80's, inspired by Ronald Reagan, Jack Kemp and Donald Totten of Illinois, a group of Indian American volunteers in Chicago, joined together to form a group dedicated to support all who championed causes dear to the Indian community in the US. Mr. Totten, who was Reagan's Midwest Campaign Manager at that time, went on the record to say that the Indian American community had a significant role to play in the ascendency of Ronald Reagan to Presidency of the United States.
After the 80's, this group re-emerged in 2010 summer in support of the candidacy of Nikki (Nimrata) Haley, a second generation Indian American, for the Governorship of South Carolina. We organized one of the all time biggest fund raisers for Nikki Haley on September 12th, 2010. This informal group of volunteers was known as National Indian American Coalition (NIAC) www.niac.co.
NIAC was formerly organized into two Not for profit, Illinois corporation in the fall of 2012:
National Indian American Public Policy Institue (NIAPPI) engaged primarily in research and educational activities. IRS C3 status is expected to be granted soon.
Indian Americans for Freedom (IAFF) engaged in "social welfare" activities as defined by IRS for a C4 Not for Profit corporation.
Visit: www.indianamericansforfreedom.com
NIAPPI Advisors and Coordinators

Donald L. Totten, coordinator, NIAPPI
In 1976 he was State chairman of Illinois Citizens for Reagan. and a member of the steering committee of the Illinois President Ford Committee. He served as regional political director for the Reagan for President Committee and also the Chairman of Reagan for President campaign in five mid western states in 1980. Mr. Totten along with Jack Kemp under the direction of President Reagan was intrumental in forming the first Indian American political organization in early 80s.

Newt Gingrich, Advisor, NIAPPI
Architect of "Contract with America", Newt Gingrich brought Republicans to control the US Congress for the first time in last 40 years. and served as speaker of the House from 1994 – 1998. Recognized as country's most brilliant thinker, debator and visionary, he was also candidate for President of U.S. in 2012. Mr. Gingrich had a historical video conference with Chief Minister Modi during US Delegation visit in March 2013.

Peter Roskam, Advisor, NIAPPI
Senior Congressmen from Illinois, he serves in Leadership position of Chief Deputy Whip in US Congress. He recently visited India in February 2013, and was the first congressional leader to speak to Chief Minister Narendra Modi. He has a large Indian American constituency in his congressional district and he's always eager to provide assistance to Indian Americans.

Cathy McMorris Rodgers, Senior Advisor & Honorary Board Member, NIAPPI
Ms. Rodgers is the elected Chairwoman of the Republican Congressmen in the House of Representatives. She is a champion of small family run businesses, works hard to keep taxes and spending down and is a strong supporter of our troops and vetrans fighting the war on terror. She was the highest ranking U.S. Congress member to visit Chief Minister Narendra Modi in March 2013, acknowledge him as Ronald Reagan of India and extended an invitation to Mr. Modi to visit the United States and share his wisdom with her colleagues in US Congress.

Aaron Schock, Senior Policy Advisor & Honorary Board Member, NIAPPI
Aaron Schock is the youngest Congressman in the U.S. Congress. He is also Deputy Whip and widely acknowledged as the Future of the Republican party. He serves on the prestigious Ways and Means committee. Mr. Schock has a reputation for his "Can do" attitude.

Stephen Yates, Senior Policy Advisor, NIAPPI
Served in the White House as Deputy Assistant to the Vice President for National Security
Affairs from April 2001 to September 2005. During his tenure in government, he was deeply involved in the development and execution of U.S foreign policy priorities in Asia, Latin America and Africa. Mr. Yates currently is a regular Fox News commentator on US foreign policy.

Christian Whiton, Policy Advisor, NIAPPI
served as a U.S. State Department official from 2003-2009, first as a special advisor to the Under Secretary of State for Global Affairs, and then as a deputy special envoy. Mr. Whiton is a regular TV commentator on US foreign policy.